Employment Agreements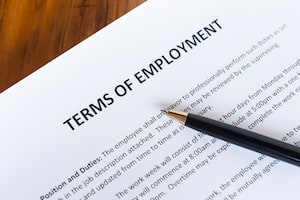 A properly drafted employment agreement can be a tremendous tool to set out the obligations and expectations of the employer and employee and to minimize the risk of future disputes. Since they are typically prepared at the outset of the employment relationship, this is the best time for the employer to memorialize the parties' respective rights and obligations, and for the employee to utilize the leverage s/he has to negotiate for more favorable terms. The Atlanta employment agreement lawyers at Fidlon Legal are highly experienced at drafting and negotiating employment agreements for executives, professionals, business owners and others.
The following is a summary of key terms that should be included in most employment agreements:
1. Scope of Employment
Job title and responsibilities
Company's right to modify employee's responsibilities
Working hours and location
Employee's ability to engage in outside business activities
2. Compensation
Base salary and any increases during the term of the contract
Circumstances under which base salary may be reduced
Any signing bonus
Quarterly or annual bonuses
Commissions
3. Equity Grants
Percentage of equity grant awarded
Form of equity used (e.g., stock options, stock appreciation rights, restricted stock)
Exercise price
Vesting period
Accelerated vesting upon termination
Exercise period following termination
Company's right to repurchase shares upon termination
4. Benefits
PTO/vacation/sick leave entitlement, accrual and carryover
Health and medical
Disability
401(k)
Pension
Cafeteria plan
Life insurance
Vision
Dental
5. Term and Termination
Employment term or employment "at will"
Grounds for termination by employer and employee
Definition of termination "for cause"
Severance in the event of termination without cause
Return of company property, documents and files
6. Reimbursement of Expenses
Relocation allowance
Types of expenses reimbursed by employer (e.g., car allowance, cell phone, travel, meals, mileage)
Timeframe for submission of expense reports and reimbursement
7. Liability
Directors' and Officers' (D&O) insurance coverage
Indemnification of employee for acts within scope of employment
Protection after employee is no longer employed by company
8. Confidentiality
Confidentiality and non-disclosure provisions
Invention assignment
Prohibition on use/disclosure of prior employer's confidential or trade secret information
9. Post-Employment Restrictions
No use/disclosure of confidential information
Non-solicitation of customers and prospects
No raiding of employees
Non-compete
10. Dispute Resolution
Mandatory arbitration vs. lawsuit
Governing law
Location where disputes must be litigated/arbitrated
11. Change of Control/Golden Parachute
Benefits paid to employee upon takeover/change of control
Employer's/employee's right to terminate employment
Tax implications
12. Miscellaneous Provisions
Remedies for breach
Reimbursement of attorneys' fees in the event of dispute
Entire agreement
Amendments must be in writing
Severability—invalid provisions don't affect remaining provisions
An employment agreement is often the most important document between the employer and employee. It is therefore critical to ensure that is carefully drafted to protect your interests and comply with the law, that you understand everything you are agreeing to, and that you negotiate to obtain the most favorable terms. Whether you are a business owner looking to draft an employment agreement or an employee who has been presented with one, the Atlanta employment agreement attorneys at Fidlon Legal are ready to assist you.