Severance Agreements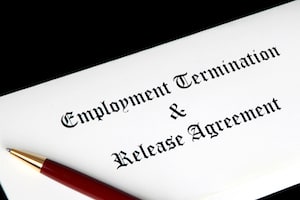 Although not legally required, many employers choose to offer severance packages to employees who are terminated due to a reduction-in-force, layoff or other "no cause" termination. Virtually all employers require the employee, as a condition of receiving the severance package, to sign a separation or severance agreement. Such agreements typically advise the employee to consult with an attorney before signing, and for good reason. If your employer offers you a severance package, it is critical to have the proposed severance agreement reviewed by experienced employment counsel.
The two main reasons for doing so are (1) to ensure that you understand all terms of the agreement and the rights you are giving up by signing it, and (2) since such agreements are drafted by the employer's attorneys to protect its interests, not yours, to have an advocate provide you with feedback and proposed additions/modifications to the agreement to make it more protective of your interests. The Atlanta, Georgia severance attorneys at Fidlon Legal have been very successful at negotiating more favorable severance packages for their clients.
We have vast experience reviewing, drafting and negotiating severance agreements for both employees and employers. This experience equips us to advise you on whether the severance amount and other terms of your proposed severance package are within the normal range for your profession or industry. Our Atlanta, Georgia severance package attorneys will also provide you with our professional opinion on whether you have any viable legal claims that would be waived if you choose to sign the proposed severance agreement.
There are several common elements to a standard separation or severance agreement, including:
Termination of employment - Severance agreements typically provide that your employment will terminate as of a stated date; however, your attorneys may be able to negotiate to have the termination reclassified as a voluntary resignation, which could enhance your future employment prospects. You should also consider the impact the stated reason for separation will have on your ability to draw unemployment benefits.
General release - Virtually all severance agreements require you to release the employer from all known or unknown claims arising prior to the date you sign the agreement. Your attorneys will explain the legal implications of accepting such a provision.
References - Your attorney may be able to negotiate for a provision specifying how reference requests will be handled and what information will be provided to future prospective employers.
Non-disparagement - Many severance agreements contain a clause barring you from disparaging your former employer or its employees, products or services. Your attorney may be able to negotiate for a reciprocal prohibition on the employer (or, more specifically, a select group of employees) disparaging you.
Restrictive covenants - Many severance agreements contain provisions restricting you from working for a competitor or soliciting your former employer's customers or employees for a specified time period after your employment ends. If your severance agreement contains such provisions, it is critical to have it reviewed by an experienced employment attorney to ensure that you understand the scope and enforceability of the restrictive covenants and consider negotiating to ensure that they do not prohibit you from earning a living.
No re-hire - Some employers will condition your severance on an agreement not to seek reinstatement or apply for a position with the company or its affiliates in the future. If your severance agreement contains such a provision, you should discuss with your attorney whether it is reasonable and necessary, and whether it could impact your employment status if the company you work for is later acquired by or merges with your former employer or its affiliates.
Cooperation - Severance agreements often require you to cooperate fully with your former employer in transitioning your duties and assisting the company in any subsequent legal proceeding or investigation. Your attorney should advise you on whether such a provision is reasonable and takes into account your schedule and requires adequate advance notice and provides for the company to reimburse you for any out-of-pocket expenses you incur in connection with your cooperation.
Confidentiality - Most severance agreements contain a clause requiring you to return all company files/documents and maintain the confidentiality of the company's business information and the terms of the severance offer. Your attorney may be able to negotiate certain exceptions, such as allowing you to disclose the terms of the severance agreement to certain individuals (such as your immediate family, tax advisor or attorney), or to carve-out certain information that is valuable to you so that it can be used in future employment or business.
Severance agreements are often filled with landmines that must be carefully navigated. They can also yield big payouts and important protections for the departing employee. An experienced employment attorney, such as the Atlanta severance package lawyers at Fidlon Legal, can help protect executives, professionals and other employees from the risk of waiving rights unnecessarily or leaving money on the table. Please contact us to discuss your severance package and any related concerns.