Sexual Harassment
Quid Pro Quo Sexual Harassment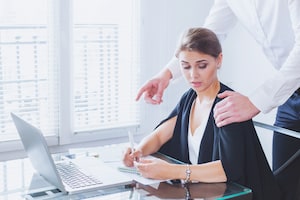 Many people are familiar with the most common form of sexual harassment, known as quid pro quo harassment. This is where a supervisor conditions a term of employment upon the victim engaging in sexual activity with him/her. An example is a supervisor threatening, "sleep with me or you're fired" or "sleep with me and I will make sure you get that promotion."
Hostile Work Environment Sexual Harassment
The other type of sexual harassment is known as hostile work environment sexual harassment. Anyone in the workplace might commit this type of harassment—a management official, co-worker, or non-employee, such as a contractor, vendor or guest. The victim can be anyone affected by the conduct, not just the individual at whom the offensive conduct is directed.
To establish a sexual harassment/hostile work environment claim based on the conduct of a non-supervisor, the employee generally must establish:
Sexual harassment that is sufficiently severe or pervasive to alter the terms or conditions of employment;
Management was put on notice that the sexual harassment was occurring; and
After being notified, the employer failed to take prompt and effective corrective action to end the sexual harassment, and it continued.
If the harasser is the employee's supervisor, however, the employer may be held strictly liable for the supervisor's actions if the sexual harassment resulted in a tangible change in the employee's employment status or benefits (e.g., demotion, termination, failure to promote).
Examples of actions that may create a sexually hostile work environment include:
Leering—i.e., staring in a sexually suggestive manner;
Making offensive remarks about looks, clothing or body parts;
Touching in a way that may make an employee feel uncomfortable, such as patting, pinching or intentional brushing against another's body;
Telling sexual or lewd jokes, making sexual gestures or displaying pornography; or
Sending, forwarding or soliciting sexually suggestive letters, notes, emails or images.
Sexual harassment can be strictly gender-based, i.e., not of a sexual nature, and can include same-gender harassment and gender identity harassment.
What to do if You Are Subjected to Sexual Harassment
If you feel you are being subjected to sexual harassment at work, you should:
Carefully document all inappropriate sexual touching, advances, comments and activities that occur in the workplace, including dates, times, persons involved, and names of witnesses;
Focus on severe and pervasive comments and activities that are sexual in nature, offensive and unwanted; and
If, after being put on notice, your employer fails to take prompt and effective action to remedy the sexual harassment, contact the Atlanta sexual harassment lawyers at Fidlon Legal for an initial case evaluation.
Statute of Limitations
In Georgia, an individual claiming sexual harassment must generally file a Charge of Discrimination with the Equal Employment Opportunity Commission (EEOC) within 180 days from the date of the most recent unlawful act to preserve his/her rights.
Remedies
Remedies for sexual harassment may include back pay, front pay, compensatory damages, punitive damages, injunctive relief, attorneys' fees and costs.
Compensatory damages are allowed for future loss, emotional distress, pain and suffering, inconvenience, mental anguish and loss of enjoyment of life. In certain cases, punitive damages may be awarded to punish employers and deter them from intentionally violating the rights of other employees.
If you have been a victim of sexual harassment, we can help. Please contact the Atlanta, Georgia sexual harassment attorneys at Fidlon Legal for an initial case evaluation.