Disability and Medical Leave
Disability Discrimination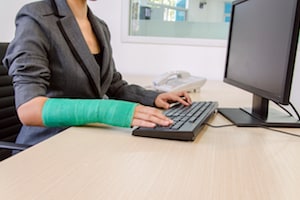 If you have a medical condition that interferes with your daily life activities or your job, and you believe your employer is mistreating you because of it, the Atlanta, Georgia disability discrimination lawyers at Fidlon Legal may be able to help.
Title I of the Americans with Disabilities Act of 1990 (ADA) prohibits private employers, state and local governments, employment agencies and labor unions from discriminating against qualified individuals with disabilities in job application procedures, hiring, firing, advancement, compensation, job training, and other terms, conditions, and privileges of employment. The ADA covers employers with fifteen or more employees. The ADA's nondiscrimination standards also apply to federal sector employees under section 501 of the Rehabilitation Act.
The ADA also prohibits employers from retaliating against an individual for opposing employment practices that discriminate based on disability or for filing a discrimination charge, testifying, or participating in any way in an investigation, proceeding, or litigation under the ADA.
Definition of "Disability"
An individual with a "disability" is a person who:
Has a physical or mental impairment that substantially limits one or more major life activities;
Has a record of such an impairment; or
Is regarded as having an impairment that is not transitory and minor and is subjected to an ADA-prohibited action based on that impairment.
A "qualified" employee or applicant with a disability is an individual who, with or without reasonable accommodation, can perform the essential functions of the job in question.
Reasonable Accommodations
The ADA requires covered employers to provide reasonable accommodations, upon request, to enable disabled employees to perform their jobs. "Reasonable accommodations" are adjustments or modifications provided by an employer to enable people with disabilities to enjoy equal employment opportunities. Reasonable accommodations may include, but are not limited to:
Making existing facilities used by employees readily accessible to and usable by persons with disabilities.
Job restructuring, modifying work schedules, or reassignment to a vacant position.
Acquiring or modifying equipment or devices, adjusting or modifying examinations, training materials, or policies, and providing qualified readers or interpreters.
Accommodations vary depending upon the needs of the individual applicant or employee. Not all people with disabilities (or even all people with the same disability) will require the same accommodation. For example:
A deaf applicant may need a sign language interpreter during the job interview.
An employee with diabetes may need regularly scheduled breaks during the workday to eat properly and monitor blood sugar and insulin levels.
A blind employee may need someone to read information posted on a bulletin board.
An employee with cancer may need leave to have radiation or chemotherapy treatments.
An employer is not required to lower quality or production standards to make an accommodation; nor is an employer obligated to provide personal use items such as glasses or hearing aids. An employer generally does not have to provide a reasonable accommodation unless an individual with a disability has asked for one. If an employer believes that a medical condition is causing a performance or conduct problem, it may ask the employee how to solve the problem and if the employee needs a reasonable accommodation. Once a reasonable accommodation is requested, the employer and the individual should discuss the individual's needs and identify the appropriate reasonable accommodation. Where more than one accommodation would work, the employer may choose the one that is less costly or that is easier to provide.
An employer also does not have to provide a reasonable accommodation if it imposes an "undue hardship" on the employer's business. Undue hardship is defined as an action requiring significant difficulty or expense when considered in light of factors such as an employer's size, financial resources, and the nature and structure of its operation.
If you have a disability and your employer is refusing to permit you to take time off work for treatment, or to otherwise accommodate your condition, you should contact the Atlanta disability discrimination lawyers at Fidlon Legal for an initial case evaluation.
Statute of Limitations
In Georgia, an individual claiming violation of the ADA must file a Charge of Discrimination with the Equal Employment Opportunity Commission (EEOC) within 180 days from the date of the alleged violation to preserve his/her rights.
Remedies
Remedies for violation of the ADA include back pay, front pay, compensatory damages, punitive damages, injunctive relief, attorneys' fees and costs.
Compensatory damages are allowed for future loss, emotional distress, pain and suffering, inconvenience, mental anguish and loss of enjoyment of life. In certain cases, punitive damages may be awarded to punish employers and deter them from intentionally violating the rights of other employees. Caps are placed on the combined compensatory and punitive damages according to the size of the employer. These caps are as follows:
Up to 100 employees: $50,000
101-200 employees: $100,000
201-500 employees: $200,000
500+ employees: $300,000
Medical Leave
Certain employees may also be entitled, under the Family and Medical Leave Act of 1993 (FMLA), to take a job-protected leave of absence from work for their own medical condition or that of an immediate family member, for the birth or adoption of a child, or when an immediate family member serving in the military is called to service or is injured in the line of duty. If you believe your employer has violated your FMLA rights, you should contact an experienced Atlanta, Georgia family and medical leave attorney, like the lawyers at Fidlon Legal
The FMLA applies to all public agencies, including state, local and federal employers, local education agencies (schools), and private-sector employers with at least fifty employees. To be eligible for FMLA leave, an employee must:
Work for a covered employer;
Have worked for the employer for a total of 12 months;
Have worked at least 1,250 hours over the previous 12 months; and
Work at a location where the employer employs at least 50 employees within 75 miles.
Under the FMLA, qualified employees are entitled to take up to 12 weeks of unpaid, job-protected leave during any 12-month period for one or more of the following reasons:
For the birth and care of the employee's newborn child;
For the placement with the employee of a child for foster care or adoption;
To care for an immediate family member (spouse, child, or parent) with a serious health condition;
When the employee is unable to work because of his/her own serious health condition; or
For qualifying exigencies arising out of the fact that the employee's immediate family member (spouse, child, or parent) is on active duty or has been called to active duty status as a member of the National Guard or Reserves in support of a contingency operation.
A covered employer also must grant an eligible employee who is a spouse, child, parent or next of kin of a current member of the Armed Forces, including a member of the National Guard or Reserves, with a serious injury or illness up to a total of 26 workweeks of unpaid leave during a "single twelve-month period" to care for the servicemember.
Although FMLA leave is unpaid, many employers permit employees to utilize their paid time off concurrently with FMLA leave.
Serious Health Condition
A "serious health condition" generally means an illness, injury, impairment, or physical or mental condition that involves either inpatient care or continuing treatment by a health care provider, which includes a period of incapacity lasting more than three consecutive days, and requiring two or more visits to a health care provider within a specified period of time. Most surgeries will meet this definition, as will most substance abuse treatment programs, pregnancy-related complications and chronic, long-term health conditions and injuries.
Birth or Adoption of a Child
Both covered fathers and mothers are entitled to take up to twelve weeks of FMLA leave after the birth or adoption of a child. However, if the employee and his/her partner both work for the same company, they are only entitled to a combined twelve weeks of parental leave between the two of them. The employee may use the FMLA leave in any way he/she wants during the first year after the child is born. That means the employee can take it all at once or, as long as the employer agrees, spread it out over the child's first year by taking it in chunks or reducing the employee's normal weekly or daily work schedule.
Intermittent Leave
Under some circumstances, employees may take FMLA leave intermittently–taking leave in separate blocks of time for a single qualifying reason, or by reducing the employee's usual weekly or daily work schedule. When leave is needed for planned medical treatment, the employee must make a reasonable effort to schedule treatment so as not to unduly disrupt the employer's operations.
Maintenance of Health Benefits
A covered employer is required to maintain group health insurance coverage for an employee on FMLA leave whenever such insurance was provided before the leave was taken and on the same terms as if the employee had continued to work. If applicable, arrangements will need to be made for employees to pay their share of health insurance premiums while on leave. In some instances, the employer may recover premiums it paid to maintain health coverage for an employee who fails to return to work from FMLA leave.
Job Restoration
Upon return from FMLA leave, an employee must be restored to the employee's original job, or to an equivalent job with equivalent pay, benefits, and other terms and conditions of employment. An employee's use of FMLA leave cannot result in the loss of any employment benefit that the employee earned or was entitled to before using FMLA leave, nor be counted against the employee under a "no fault" attendance policy. If a bonus or other payment, however, is based on the achievement of a specified goal such as hours worked, products sold, or perfect attendance, and the employee has not met the goal due to FMLA leave, payment may be denied unless it is paid to an employee on equivalent leave status for a reason that does not qualify as FMLA leave.
Interference/Retaliation
It is unlawful for any employer to interfere with, restrain, or deny the exercise of any right provided by the FMLA. It is also unlawful for an employer to discharge or discriminate against any individual for opposing any practice, or because of his/her involvement in any proceeding, related to the FMLA.
Statute of Limitations
Employees may bring a claim for violation of the FMLA for up to two years from the date of the violation, and up to three years if the employer's violation was intentional.
Remedies
Employees who believe their FMLA rights were violated may file a complaint with the local office of the United States Department of Labor's Wage and Hour Division. An employee may also bring a lawsuit against his/her employer for violating the FMLA. The remedies for an FMLA violation may include reinstatement, lost wages, benefits or other compensation, an equal amount as liquidated damages, actual monetary losses resulting from the violation (such as the cost of providing care), attorney's fees and court costs.
If your employer has denied you a medical leave, or retaliated against you for exercising your FMLA rights, the attorneys at Fidlon Legal can help. Please contact us for an initial case evaluation.