Employment Discrimination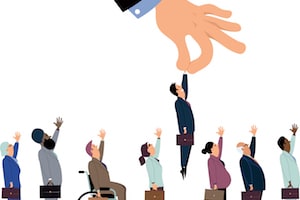 Employment discrimination occurs when an employer adversely singles out employees or job applicants on the basis of age, race/color, gender, sexual orientation, transgender status, disability, national origin, religion, pregnancy, genetic information or veteran status.
To be illegal, the discrimination must be based on one or more of these "protected categories." Otherwise, employees are not generally protected from discrimination, however unfair or unethical it may seem.
For example, if your boss is much harder on you than anyone else for no apparent reason, while it might be unfair or unethical behavior for a boss, it is not prohibited by law. But if he or she is extra hard on you for a reason that is protected by law, such as your age, race or sex, then it is illegal discrimination, especially if you suffer damage such as being passed over for a well-deserved raise or promotion.
Unlawful discrimination can occur in any aspect of employment, including:
Hiring and firing
Compensation, assignment or classification of employees
Transfer, promotion, layoff or recall
Job advertisements
Recruitment
Testing
Use of company facilities
Training and apprenticeship programs
Fringe benefits
Pay, retirement plans and disability leave
Discriminatory practices also include harassment or a hostile work environment based on age, race/color, gender, disability, national origin or religion.
If you believe you were subjected to unlawful discrimination, you should act quickly. In many cases, you must file your claim with the Equal Employment Opportunity Commission (EEOC) within 180 days of the last discriminatory act in order to preserve your rights. We recommend that you contact the Atlanta, Georgia employment discrimination lawyers at Fidlon Legal as soon as possible. An experienced Atlanta employment discrimination attorney may be able to assist you in ending the unlawful practices, preventing your employer from terminating you, or, if you have already been terminated, negotiating an acceptable severance package.
The Age Discrimination in Employment Act
The Age Discrimination in Employment Act of 1967 (ADEA) protects individuals who are forty years of age or older from employment discrimination based on age. The ADEA applies to employers with twenty or more employees, including employment agencies and labor organizations, as well as federal, state and local governments.
The ADEA's protections apply to both employees and job applicants. Under the ADEA, it is unlawful to discriminate against a person because of his/her age with respect to any term, condition or privilege of employment, including hiring, firing, promotion, layoff, compensation, benefits, job assignments and training.
It is also unlawful to retaliate against an individual for opposing employment practices that discriminate based on age or for filing an age discrimination charge, testifying, or participating in any way in an investigation, proceeding or litigation under the ADEA.
Remedies for violation of the ADEA include:
Back pay—the most common form of relief, consisting of wages, salary and fringe benefits the employee would have earned during the period of discrimination from the date of termination (or failure to promote), to the date of trial.
Front pay—designed to restore discrimination victims to their "rightful place." It compensates the victim for anticipated future losses due to discrimination.
Liquidated damages—twice the amount of back pay may be awarded in the event of a "willful" violation, if the employee proves that employer knowingly violated the ADEA or acted in "reckless disregard" of its provisions,
Injunctive relief—a court order requiring the employer to take remedial action, including promoting or reinstating the employee, or preventing future discrimination.
Attorney's fees and litigation costs may be awarded to the prevailing party.
Title VII
Title VII of the Civil Rights Act of 1964 (Title VII) prohibits discrimination against employees, former employees and applicants for employment with respect to their compensation, terms, conditions or privileges of employment based on their race, color, gender, sexual orientation, transgender status, national origin or religion. The Pregnancy Discrimination Act amended Title VII to prohibit employment discrimination on the basis of pregnancy, childbirth or related medical conditions. Title VII covers employers with at least fifteen employees.
Title VII also prohibits retaliation against an employee or applicant because the individual has opposed or complained of discrimination made unlawful under the statute, or because the individual has made a charge, testified, assisted, or participated in any manner in an investigation proceeding, or hearing concerning a Title VII violation.
Remedies for violation of Title VII include back pay, front pay, compensatory damages, punitive damages, injunctive relief, attorneys' fees and costs.
Compensatory damages are allowed for future loss, emotional distress, pain and suffering, inconvenience, mental anguish and loss of enjoyment of life. In certain cases, punitive damages may be awarded to punish employers and deter them from intentionally violating the rights of other employees. Caps are placed on the combined compensatory and punitive damages according to the size of the employer. These caps are as follows:
Up to 100 employees: $50,000
101-200 employees: $100,000
201-500 employees: $200,000
500+ employees: $300,000
Section 1981
42 U.S.C. § 1981 (Section 1981) is a federal civil rights statute that prohibits discrimination against an employee or job applicant because of the person's race. The protections afforded by Section 1981 may in many cases overlap with those of Title VII. But there are some important differences. For example, in a Section 1981 case, the plaintiff does not have to file a Charge of Discrimination with the EEOC or wait for the EEOC to complete an investigation before bringing a court action. Also, Title VII applies only to employers with fifteen or more employees, whereas Section 1981 imposes no such limitation. The damage caps imposed under Title VII do not apply under Section 1981. Additionally, individual employees cannot be sued under Title VII, but they can be sued under Section 1981. On the other hand, Title VII protects against discrimination on the basis of gender, creed or color, national origin and religion, as well as race, while Section 1981 prohibits racial discrimination only. The statute of limitations for filing a Section 1981 claim is also longer than that which applies under Title VII.
If you believe you have been the victim of racial discrimination by an employer, contact the Atlanta employment discrimination law team at Fidlon Legal for an initial case evaluation. The employment discrimination lawyers at Fidlon Legal may assert claims under both Title VII and Section 1981 to preserve your rights.
Americans with Disabilities Act
The Americans with Disabilities Act of 1990 (ADA) prohibits private employers, state and local governments, employment agencies and labor unions from discriminating against qualified individuals with disabilities in job application procedures, hiring, firing, advancement, compensation, job training, and other terms, conditions, and privileges of employment. The ADA covers employers with fifteen or more employees. The ADA's nondiscrimination standards also apply to federal sector employees under section 501 of the Rehabilitation Act.
Under the ADA, an individual with a disability is a person who:
Has a physical or mental impairment that substantially limits one or more major life activities;
Has a record of such an impairment; or
Is regarded as having an impairment that is not transitory and minor and is subjected to an ADA-prohibited action based on that impairment.
A qualified employee or applicant with a disability is an individual who, with or without reasonable accommodation, can perform the essential functions of the job in question. Upon request, an employer is required to make a reasonable accommodation to the known disability of a qualified applicant or employee if it would not impose an "undue hardship" on the operation of the employer's business. Reasonable accommodations are adjustments or modifications provided by an employer to enable people with disabilities to enjoy equal employment opportunities. For example:
A deaf applicant may need a sign language interpreter during the job interview.
An employee with diabetes may need regularly scheduled breaks during the workday to eat properly and monitor blood sugar and insulin levels.
A blind employee may need someone to read information posted on a bulletin board.
An employee with cancer may need leave to have radiation or chemotherapy treatments.
Like Title VII, the ADA also prohibits employers from retaliating against an individual for opposing employment practices that discriminate based on disability or for filing a discrimination charge, testifying, or participating in any way in an investigation, proceeding, or litigation under the ADA.
The remedies for violation of the ADA are the same as those for Title VII.
Whether your claim is for disability discrimination or failure to provide a reasonable accommodation for a disability, the attorneys at Fidlon Legal can help you. Please contact our Atlanta employment discrimination law team for an initial case evaluation.
Equal Pay Act
The Equal Pay Act of 1963 (EPA) protects men and women who perform substantially equal work in the same establishment from sex-based wage discrimination. The EPA does not have a minimum threshold number of employees for coverage.
Note that:
Employers may not reduce wages of either sex to equalize pay between men and women.
A violation of the EPA may occur where a different wage was/is paid to a person who worked in the same job before or after an employee of the opposite sex.
A violation may also occur where a labor union causes the employer to violate the law.
State and Local Laws
Depending upon the jurisdiction, state and local fair employment laws may exist which impose different, and often stricter, requirements. In Georgia, public sector employees are protected by the Georgia Fair Employment Practices Act, which prohibits discrimination based on race, color, religion, national origin, sex, handicap, or age. Employees within the City of Atlanta are also protected by the Atlanta Human Relations Code, which prohibits discrimination based on race, color, creed, religion, sex, domestic relationship status, sexual orientation, national origin, gender identity, age, and physical disability. The Atlanta employment discrimination lawyers at Fidlon Legal are experienced at handling discrimination claims under these state and local laws.